I'm back to doing a short but fun post today!
I'm linking up with Shannon over on
Life After I 'Dew'
for So What Wednesday.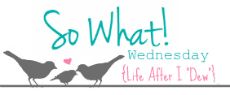 So, here's what I have to say [So What] to today...
So What--if I kinda sort like the idea of a 2-in-1 wedding dress?
So What--if my job makes me nervous. It's really teaching me that pretty much anything could happen, but life would still
go on
!
So What--if I already want to make a semi-major change in wedding plans. I just don't think the date we were trying to set is right.
So What--if I listen to the same playlist on Spotify every.single.day at work. [It's 38 songs by my favorite guys--Amos, John, Jack, Tom, Ray, Mumford and Sons, and Kings of Leon--it gets me through the day.]
So What--if I want to hire a friend of a friend to sing my favorite Amos, Jack, John, and Ray songs at my reception. It makes my heart flutter when I think about having a sweet voice playing live for me to dance to on the happiest day of my life!
So What--if I can't stop thinking about the wedding! : )
So What--if I have only had 2 drinks this week so far. I can take a break every now and then!
So What--if I'm excited about blogging this summer.....it's time to get my butt in gear around here!
So What--if I'm jealous of everyone I know going to CMA fest....AND all of the bloggers coming to town to go. Boo!
So What--if I couldn't keep up with the #PhotoADay challenges in the past. I'm killin' it this month.
Here's the list, in case you want to join in!
Follow me on Twitter to see my pics - @AshMPars
--------------
That's it! Go check out the rest of the So What posts [
here
].