Dear Ryan
, You're the best. Thanks for always being there, for listening, and for making me feel better.
Dear Friends and Family
, I can't wait to see you all together in July to celebrate with Ryan and I!
Dear Career
, Get your shit together, ok?
Dear Neighbors
, I'm very
very very
sorry that our pup woke you up the other night. That's very unlike him, I swear.
Dear Friday
, please live up to my expectations. Be awesome. I could really use an awesome couple of days.
Dear Twitter friends
, Thanks for always making me laugh and for keeping me up to date on everything.
Dear Blogger friends
, I hope you have a Happy Friday!
Dear Etsy
, please stop listing SO many things that I just have to have.
Dear World
, You know all the Etsy stuff I have to have? Send me a money tree. I'd reeeeally appreciate it!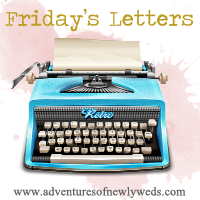 Linking up with Ashley @ Adventures of Newlyweds :)