Happy Friday ladies!
It's been another quick week around here. With another work trip on the horizon and a super busy October in general, today feels like the beginning of a whirlwind! We will be gone 4 out of the next 5 weekends. Sheeeew weeee! It just comes with the territory of the season though--weddings, family visits, birthdays, football games! Just another reason why fall is my favorite season :)
Speaking of fall...this is the second year in a row I've participated in the Fall Blogger Swap.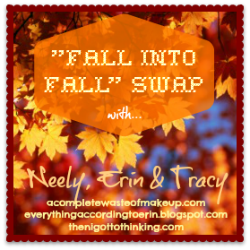 I was partnered with Sarah at Scissors and A Whisk for a cute swap of fall items.
I was so excited to get back from my last trip, because I knew there would be a sweet package waiting on me! Here are the goodies I got:
How cute is this tag Sarah put on the package?
Yummy candy, cute nail polish and a fall scarf!
This scarf is the perfect fall color..and it goes great with my hair!
I never have a Toblerone before and it was delicious! It was so fun swapping and I can't wait to see what Sarah thinks about the package I sent her :)
-------
Check out the rest of the swaps here.